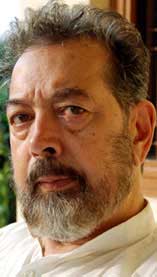 K. KHOSA has been working as a professional painter since 1962.He has held more than twelve solo exhibitions of his paintings at Delhi, Kolkota and Mumbai mostly organized by galleries like Artoday, Arts Trust, Gallery 7. Having used ink, pencil, oils and acrylics, he has participated major national and international shows in India and other countries, bringing him the "National Award" in 1981 and President of India's silver plaque in 1974. His paintings have been auctioned by Osian's auction house in India from time to time and many other charity organizations like Concern India and Help age India. To trace his growth as an artist, his paintings can be found in the significant collections of the National Gallery of Modern art, Lalit Kala Academy, Sahitya Kala Parishad of Delhi, Collage of art, International airport authority of India and numerous private collections in India, America, Canada, Dubai, Hong kong, Singapore and Europe.

His artistic enquiry has impelled him to collaborate with his contemporaries in poetry, literature and theatre. Such concerns also brought him the department of culture's senior fellowship (1979- 82 ) for " Integrating the visual language of art and content and coordinating it as a whole". His paintings along with his concerns have been extensively published throughout the country including the paintings reproduced by the International Design journal (No.42 ) Seoul, Korea. Among the most prestigious, an extensive interview along with the reproduction of paintings was published by " Temenos 13" an international review journal devoted to the " Arts of the Imagination" edited by Kathleen Raine, published from London. Attended many art camps at national and international level. Represented at sixth Babylon International Festival of Art in Iraq 1994. A slide presentation of the three decades of his paintings was held at an International seminar of The Indira Gandhi National Center of the Arts arranged in collaboration with the Millennium Trust of Britain in 2004. Represented India and participated as an artist in an international show of "Stichting White Cube global village" in Netherlands, Denmark and Germany 2014.

A 28 min. documentary on the life and work of K. Khosa was released by the national channel of Doordarshan including the DD world and the Prasar Bharti Channels in 2003-2004.